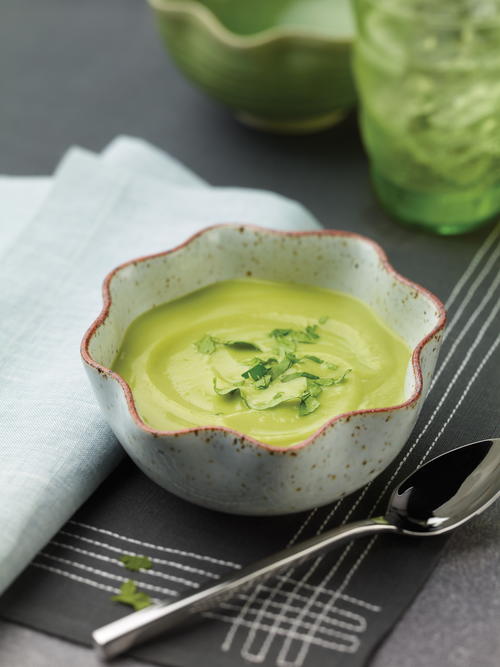 Enjoy fresh summer tastes with this chilled Avocado Summer Soup. This green and flavorful soup recipe comes from "The Budget-Friendly Fresh and Local Diabetes Cookbook" and is perfect during hot summer days, or anytime you're craving a fresh-tasting soup!
What You'll Need
1 small onion, finely chopped
1 clove garlic, minced
1 tablespoon canola oil
2 large ripe Haas avocados

1

/

4

cup lime juice
2 tablespoons sherry
1 (14-ounce) can low-sodium chicken stock (or 1-1/2 cups homemade chicken broth)

1

/

2

teaspoon hot pepper sauce
2 tablespoons chopped fresh cilantro
2 cups low-fat milk
dash kosher salt
What to Do
Saute the onion and garlic in the oil until soft and fragrant. Set aside.
Peel and chop the avocado. Puree in a blender or food processor with the onion and garlic mixture, the lime juice, and the sherry.
Add chicken broth and hot sauce. Process until blended. Pour into a large serving bowl and add the chopped cilantro and milk. (Use more or less to achieve desired consistency.)
Add salt to taste and chill for 2-3 hours before serving.
Garnish with more chopped cilantro.
Notes
Some people like to use 1 cup of low-fat milk and 1 cup of buttermilk in this soup. This makes the soup slightly thicker and tangy.
Exchanges/Food Choices: 1/2 Carbohydrate | 2 Fat
Nutritional Information: Calories 125 | Calories from Fat 80 | Total Fat 9.0g | Saturated Fat 1.5g | Trans Fat 0g | Cholesterol 5mg | Sodium 50mg | Potassium 380mg | Total Carbohydrate 9g | Dietary Fiber 3g | Sugars 4g | Protein 4g | Phosphorus 95mg
Copyright © 2014 American Diabetes Association. From The Budget-Friendly Fresh and Local Diabetes Cookbook. Reprinted with permission from The American Diabetes Association. To order this book call 1-800-232-6733 or order online at ShopDiabetes.org.
Your Recently Viewed Recipes