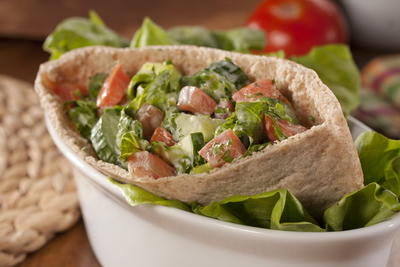 We're all looking for ways to stay healthy and eat healthy, but this can be a challenge for some of us, especially at lunchtime. While it may be easy to go out and grab a lunch from a nearby restaurant or cafe, it's not always the healthiest choice. That's why we believe that a healthy lunch starts at home, where you're in control of the ingredients. 

To help you out, we've put together a list of some of our favorite healthy lunch recipes, along with some tips that we hope will help you make the best choices for your dietary needs.
Table of Contents
Salads You'll Love
Salads can be a great choice for a healthy lunch, so long as you're making sure to use healthy salad dressings! And since there are so many different ways to make a salad, you don't ever have to get bored. Just mix and match your veggies, use what's in your fridge, try a new dressing...you get the idea! Below are just some of our favorites to help get you started. 
Sandwich Substitutes
While sandwiches are not off-limits on diabetic diets, they can certainly be a challenge to those who are counting carbs. Luckily, there are other ways to enjoy your favorite deli meats and sandwich fillings that are a little healthier. For example, you can enjoy your sandwich open-faced or start with whole-wheat pita breads or wraps (many of which come in low-carb varieties). You can even experiment with unique bread substitutes, like we did with our Low-Carb Grilled Cheese!
Other Yummy Lunch Ideas
Lunch doesn't have to mean just salads and sandwiches! On those days when you have a little extra time, why not whip up one of these healthy lunch recipes? Just remember, portion control can be just as important as eating healthy. Even though these meals are lower in calories, carbs, and fat, that doesn't mean you should overeat!
We hope you enjoyed these healthy and quick lunch ideas, as well as our healthy lunch tips. If you like these recipes or have a question about packing a healthy lunch, please be sure to leave us a comment below!
Your Recently Viewed Recipes