Muffin Tin Recipes for Diabetics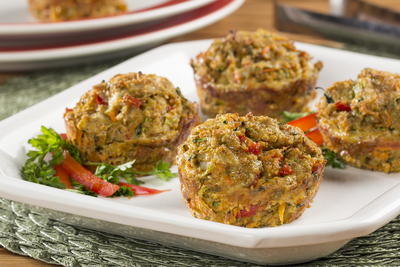 Portion control is a big part of maintaining a healthy diabetic diet. Luckily, there are some easy ways for us to put this into practice, like using a muffin tin. Yep, that's right - nowadays, muffin tins are for more than just making baking muffins in. We can make everything from breakfast to dessert in our muffin tin, and the best part is, a single muffin-cup is usually the perfect portion amount. Muffin tin recipes are also great 'cause you can make several of one thing at once, which is useful for anytime you're feeding several people or for make-ahead meals.  
Check out our muffin tin recipes for diabetics below, and let us know which one is your favorite!
Table of Contents
Muffin Tin Breakfast Recipes
Muffin Tin Appetizer Recipes
Enjoy the tastes of barbecued chicken anytime of the year with this recipe for low-carb Barbecue Chicken Tarts. Because they bake up in a muffin tin, they're perfectly portioned, making this diabetic chicken recipe a great snack or make-ahead lunch idea.
We made a classic salad a trendy new favorite by stuffing it into baked wonton cups. Our Caesar Salad Cups make great party appetizers or healthy, low-carb snacks. Enjoy one anytime you want 'cause they're super easy to make! 
Muffin Tin Side Dish Recipes
Muffin Tin Dinner Recipes
If your family loves meat loaf, why not give quick 'n' easy Two-Step Meat Loaf Muffins recipe a new taste each time you make it? Try it with hickory-smoked, honey-garlic, and other types of barbecue sauces for different twists!
If you're a fan of holiday stuffing, but don't like waiting around for the holidays to come around, then our recipe for Turkey Sausage Stuffing Muffins is one you'll want to keep close! You'll love eating these perfectly-portioned, stuffing muffins all year long!
It's easier to control your portions when you use a muffin-tin! Our Sweet Potato-Crowned Turkey Muffins are like mini meatloaves, that are filled with healthier-for-you ingredients.
Muffin Tin Dessert Recipes
Bake up a batch of our Raspberry Lemon Mini Cheesecakes and find yourself immersed in tart citrusy flavor! These light cheesecakes are perfectly portioned and low-carb, so you don't have to feel guilty about treating yourself!
If you love to bake, bite-size items are great go-to recipes, since there is built-in portion control. Remember, smaller portions are an important part of any meal plan. Plus, our Almond Cheesecake Tarts are so decadent, a smaller bite doesn't mean they're small on taste!
Your Recently Viewed Recipes