15 Easy Ground Turkey Recipes: Chili, Burgers, Meatloaf and More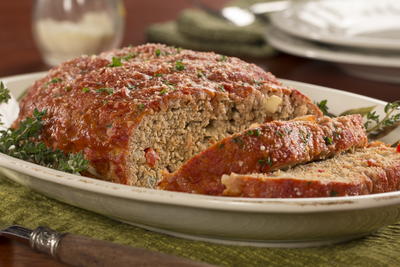 Ground turkey is a healthier alternative to high-fat and high-calorie ground beef, which is why it can be a great choice for anyone following a diabetic diet. If you're not sure where to start, then you'll love this collection of easy and healthy ground turkey recipes, featuring favorites like ground turkey burgers, chilis, casseroles, and more. These are recipes that everyone in the family will enjoy, so get ready to get cookin'!
Table of Contents
Soups & Chilis
Using ground turkey in our chili lightens it up, making it fit for a diabetes diet. With plenty of other flavors in the mix, you'll never even notice the difference!
Ladle up some "souper" servings of this Slow Cooker Taco Soup to enjoy all of your favorite Tex-Mex flavors in a bowl! This easy soup recipe, full of spices, cooks low and slow, so you know it's going to have lots of taste!
Burgers
Our "Gobble" Em Up Burgers use lean ground turkey and some zesty seasonings to put a whole new spin on a classic cheeseburger. Replace the bun with lettuce and you've got a flavorful and guilt-free burger that you can enjoy anytime!
Our Quinoa Turkey Burgers are a healthy alternative to traditional hamburgers. Adding quinoa to our turkey burgers helps prevent them from becoming dry and adds some fiber too. Not only are these better for us, but they're flavorful, too!  
Pasta
Traditional Italian recipes for spaghetti and meatballs are too high in fat, carbs and calories for anyone with diabetes, so our Test Kitchen took on the task to lighten it up. The result is our healthier Turkey Meatballs and Spaghetti!
Enjoy the Italian classic of a layered hot 'n' bubbly lasagna right out of your oven, without the worry of straying from your diabetes diet regimen. Our Healthy Twist Lasagna uses an assortment of flavorful, lighter ingredients, still packing lots of taste.
A good meat sauce is always welcome over our Italian pasta dishes, but if you have diabetes, that sort of recipe might be off limits. Well, not anymore, 'cause our Ground Turkey Pasta Sauce is made with healthier ingredients, yet packs all the comforting taste you'd expect!
Other Favorite Ground Turkey Recipes
Your Recently Viewed Recipes